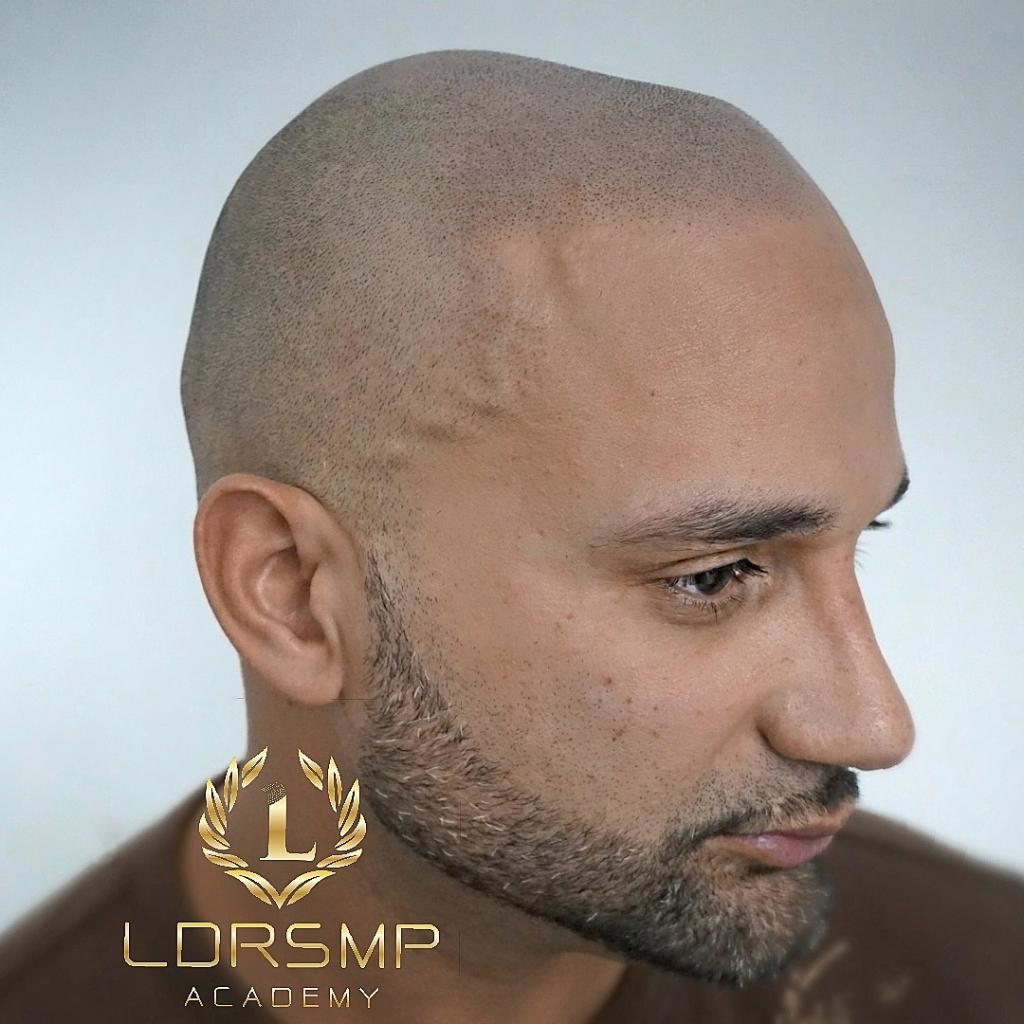 INTERVIEW: Lindsey Ta Talks About the Best Hair Loss Solution, Scalp Micropigmentation—and Microblading LA's New Training Course
Interviews | MLA Staff
INTERVIEW: Lindsey Ta Talks About the Best Hair Loss Solution, Scalp Micropigmentation—and Microblading LA's New Training Course
Interviews | MLA Staff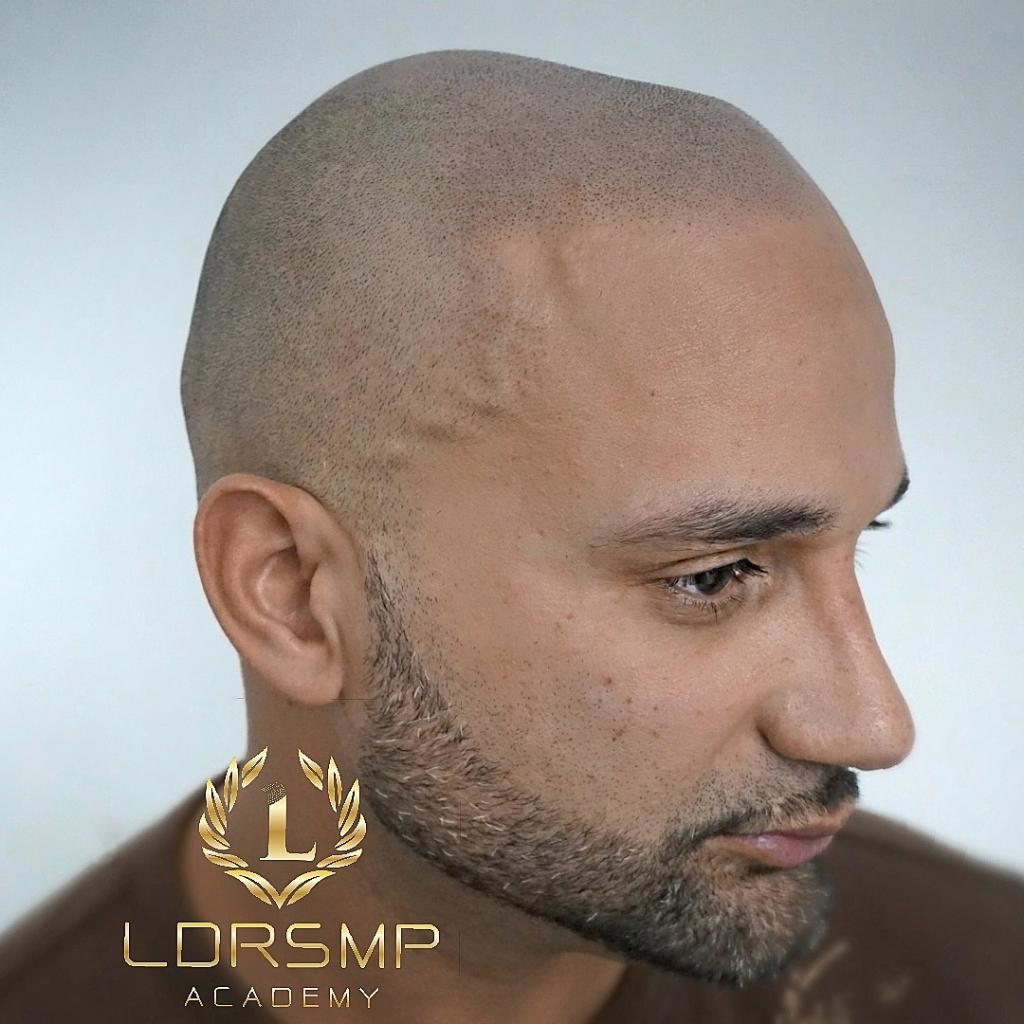 "Scalp Micropigmentation is finally getting the right attention," says Microblading LA Founder Lindsey Ta. "It's been around for years, but now it's having a moment."
Scalp Micropigmentation is one of the newest cosmetic tattoo trends. It is a solution for hiding hair loss. The artist places a series of tiny dots on the client's scalp. For fully bald men these dots resemble the look of a closely shaven head and returns the client's hairline. For women or men with thinning hair, it restores fullness.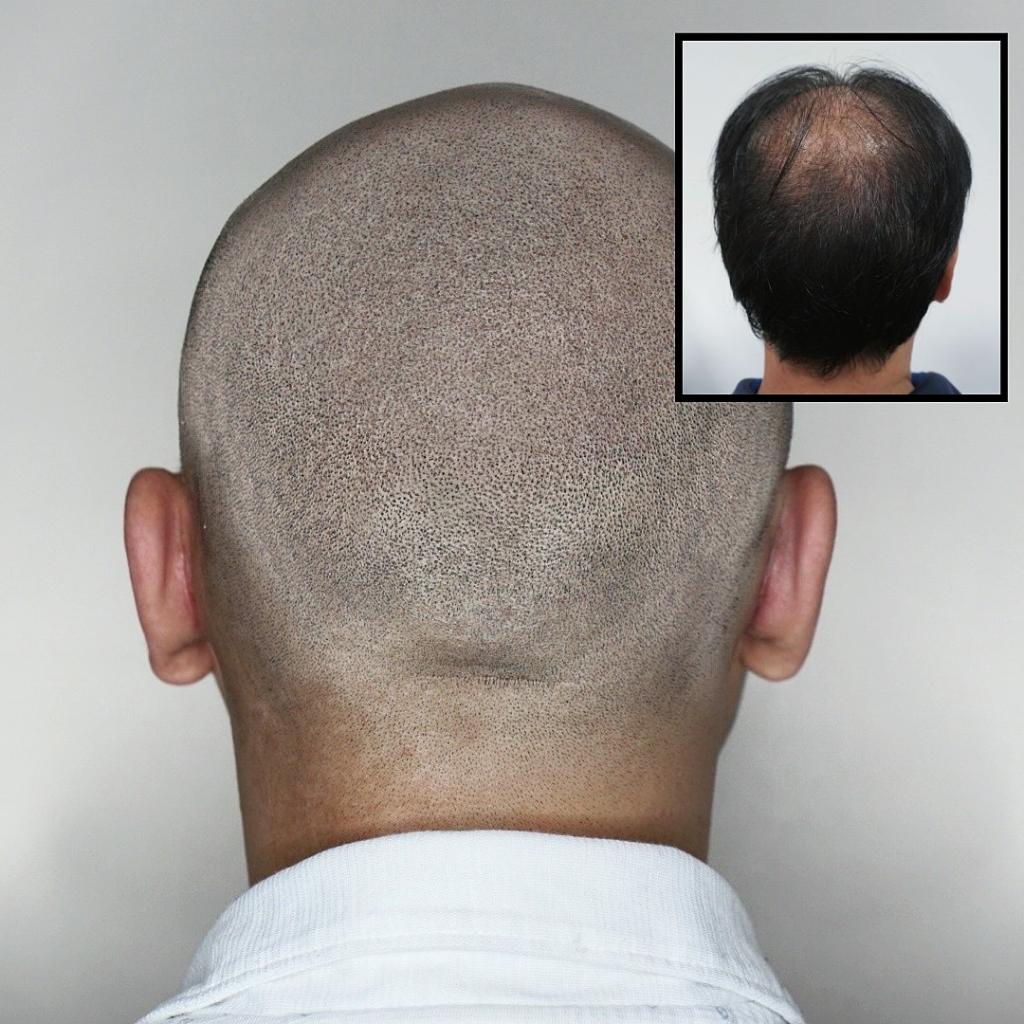 This is exciting technique is non-invasive, has no downtime, no side effects, and little upkeep, and delivers immediate results. SMP is simply one of the best hair loss solutions on the market.
Which is why SMP is having a moment: Google Trends, which measures how often phrases are searched online, shows that the first time it was searched in North America was in January 2011. Since then, the popularity of Scalp Micropigmention on Google has grown 10 times. 
Microblading LA is now offering a class to teach students Scalp Micropigmentation with one of the best technicians working today, Jeff Villenas.
We sat down with Lindsey Ta to discuss the art of scalp micropigmentation and what students can expect in the newly added class. (Our first date 4/6/19—there are limited seats remaining!)
Q: Why are you bringing Scalp Micropigmentation Training to Microblading LA Academy?
Lindsey: My husband Roy introduced me to it. His brother had it done and it looked really good! As a permanent makeup artist I had so many questions. I was curious to how it fade and if it would last. It's been several years now and it still looks really good!
I've taken a class and met Jeff who has had it for 7 years. I thought "Wow. This still looks really good." For us in the permanent makeup industry, we want to see the healed results. I've now seen so many people with healed S.M.P. I can see how it changes someone's life. The confidence, the youthfulness, restoring the hairline.
Everything women get out of eyebrows, men get out of Scalp Micropigmention.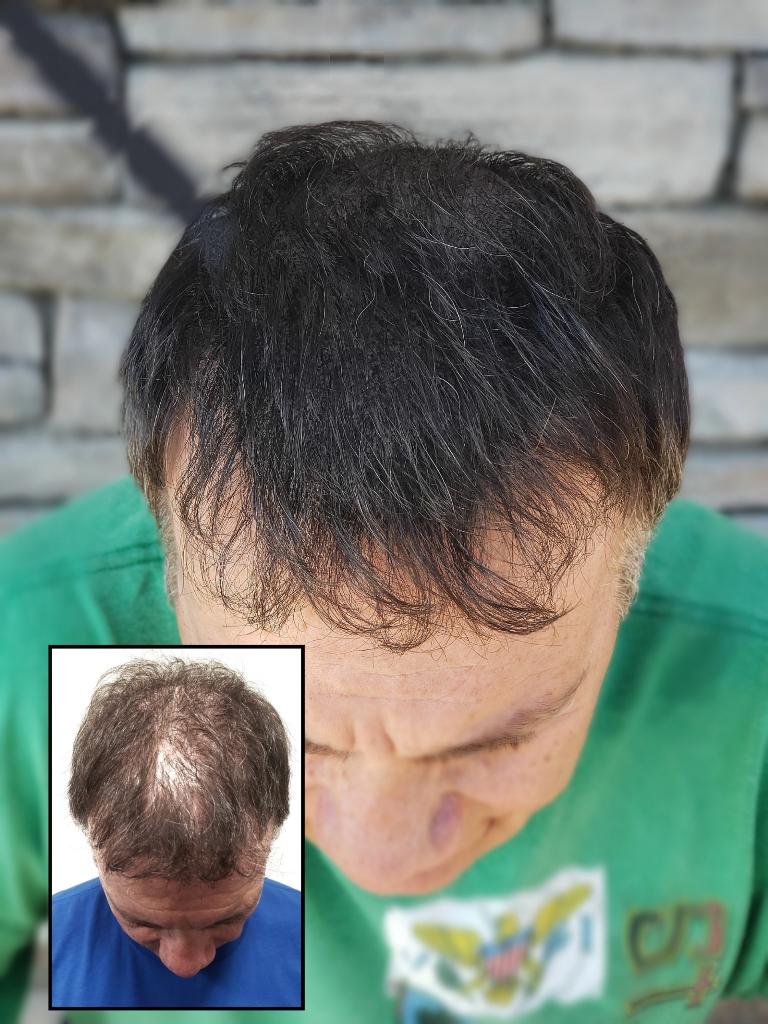 Q: Why learn Scalp Micropigmentation at Microblading LA?
Lindsey: Well, Jeff is one of the industry's best technicians. His work speaks for itself.  Plus he's offering this class at a discount just for us. Normally this class is $4,500 when he teaches it in Chicago or anywhere. We're offering at $2,499!!!
We wanted to share Scalp Micropigmentation with our fans and our students and so did Jeff. It's such an incredible technique. So we worked out this exclusive price. 
Q: Why are permanent makeup artists learning this technique?
Lindsey: Scalp Micropigmenation is getting the right attention finally. Many PMU artists are picking it up. We see the healed results. I'm completely convinced. It changes people lives.
It really helps men. It can help women too who have thinning hair. But it really helps men. You're reaching a whole new audience. This is the husbands, boyfriends, and fathers of our existing clients.
If they're doing eyebrows and they have space to book more, this can be a great add-on.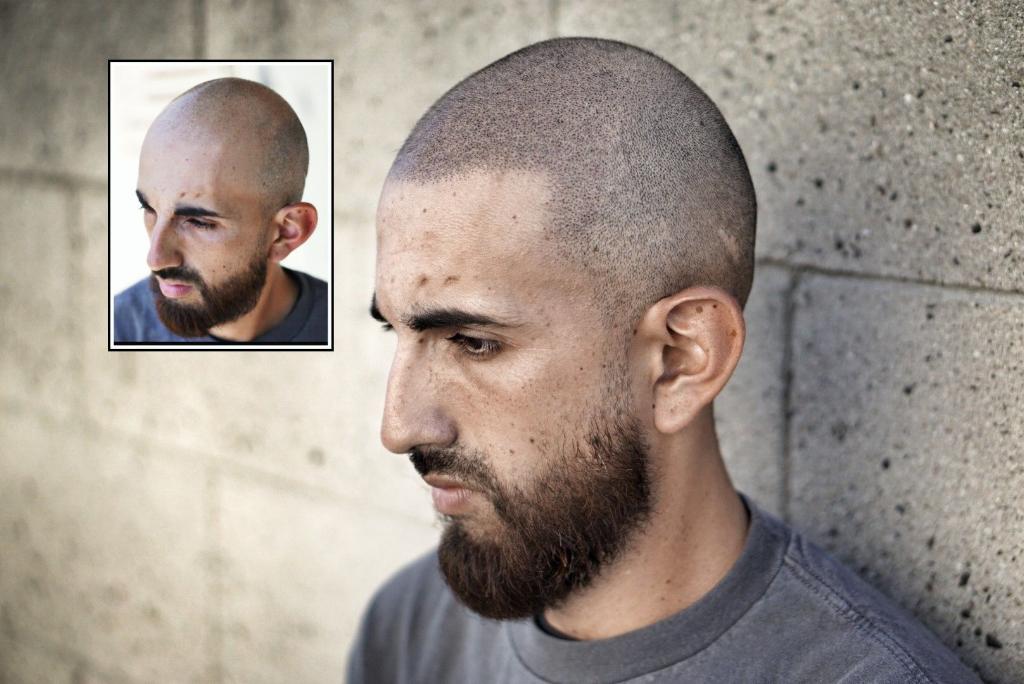 Q: What can new students who have never studied permanent makeup expect when they take the class?
Lindsey: You have to have a desire to do this for people. More than anything else you have to have that desire. If you have that desire, it's a great place to start.
It's a beginner's course for anyone who wants to help people with hair loss, help them feel better and look better.
You get to learn the machine, learn patience, learn the motion of how to place the dots. In permanent makeup it's a matter of making the decision to start and this is a good place to start.
Q: What about for working artists who already know microblading? What can they expect?
Lindsey: SMP is less advanced than microblading. Both require precision, but with eyebrows you are designing two equal shapes on a face. There's a lot of asymmetry there that you have to work with. Versus working on a head with SMP.
The learning curve is easier with SMP, but it still can be challenging to learn to create the hairline and create a natural fade if you're not a hairdresser. But it's like with anything else, you practice.
The fundamentals are the same. You're pushing ink into the skin so it's all familiar territory. But it's how you do it and how you create the hairline that's new.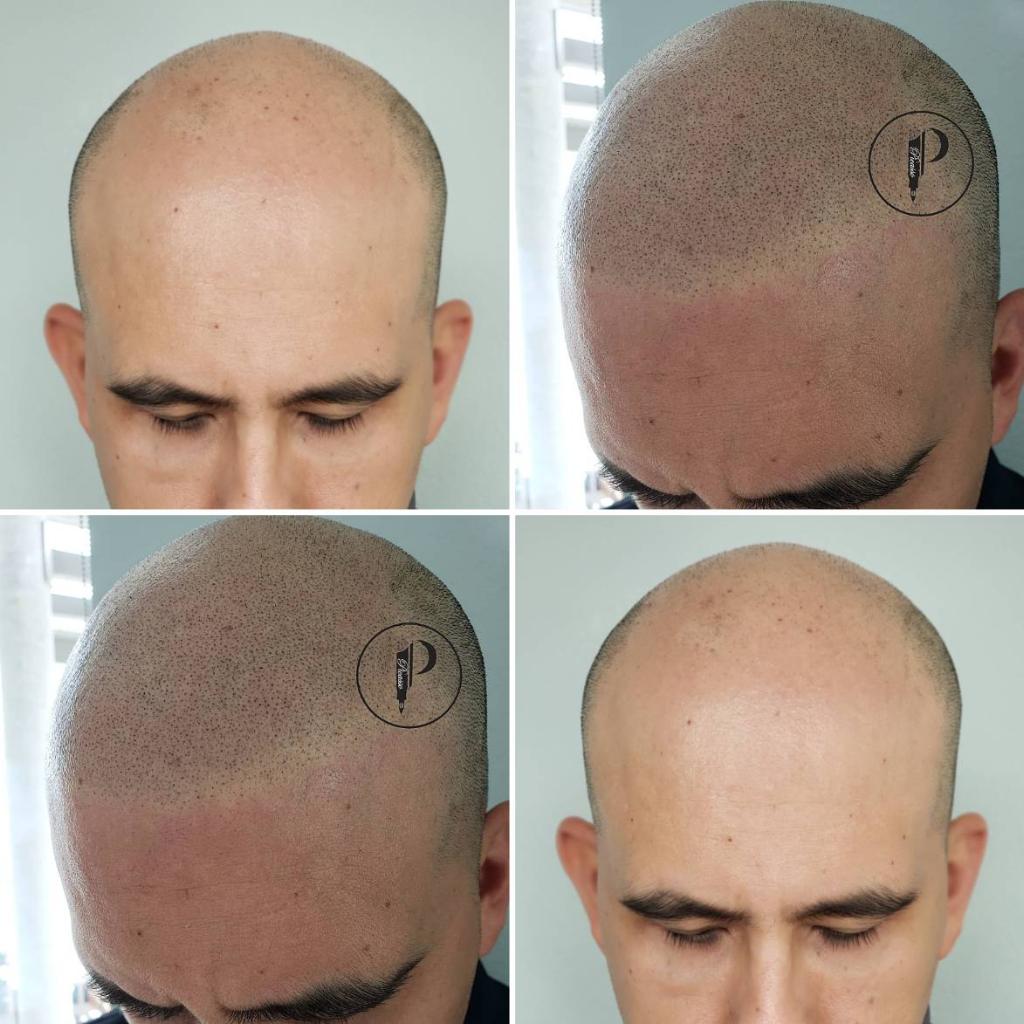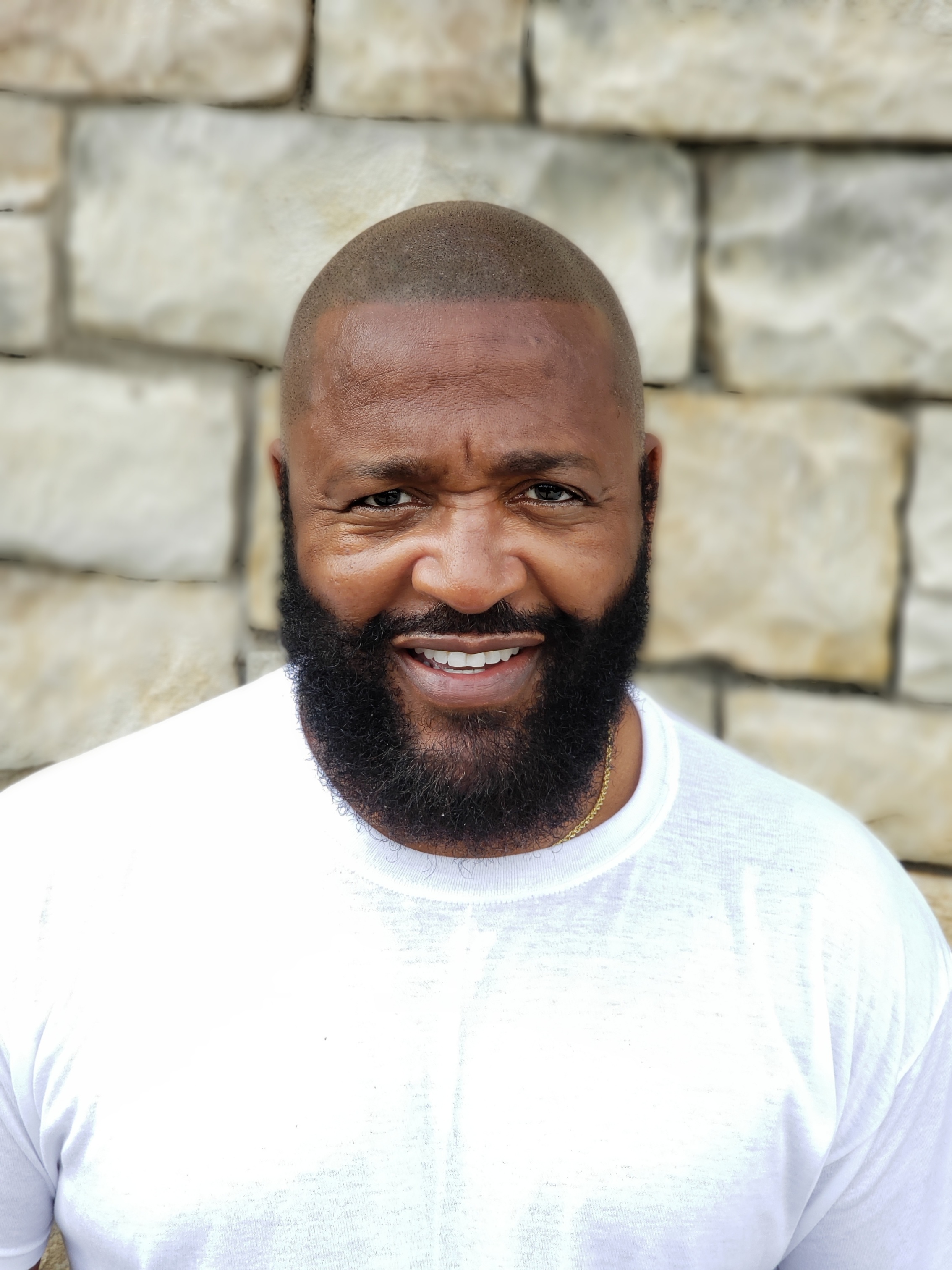 Q: How is working on the scalp different than working on the face?

Lindsey: It's unfamiliar but it's not hard to transition. I was surprised that it was easy. You're still using familiar techniques, but you have to learn how to hold the pen in different area of the scalp and what needle to use because it's different than the face.
For microbladers, if we can master microblading, we can master this. We're already used to understanding needle depth, so it's a matter of learning the new texture of the scalp.
Q: Why did you learn this technique?
Lindsey: I never stop learning. I always want to know what's out there.
It's incredible what they can do and how much it can transform someone's life. There is nothing like this procedure and I have family and friends who used. 1 year, 3 years, 5 years, 7 years… it still looks really good!
I wouldn't stand behind something unless I believe in it.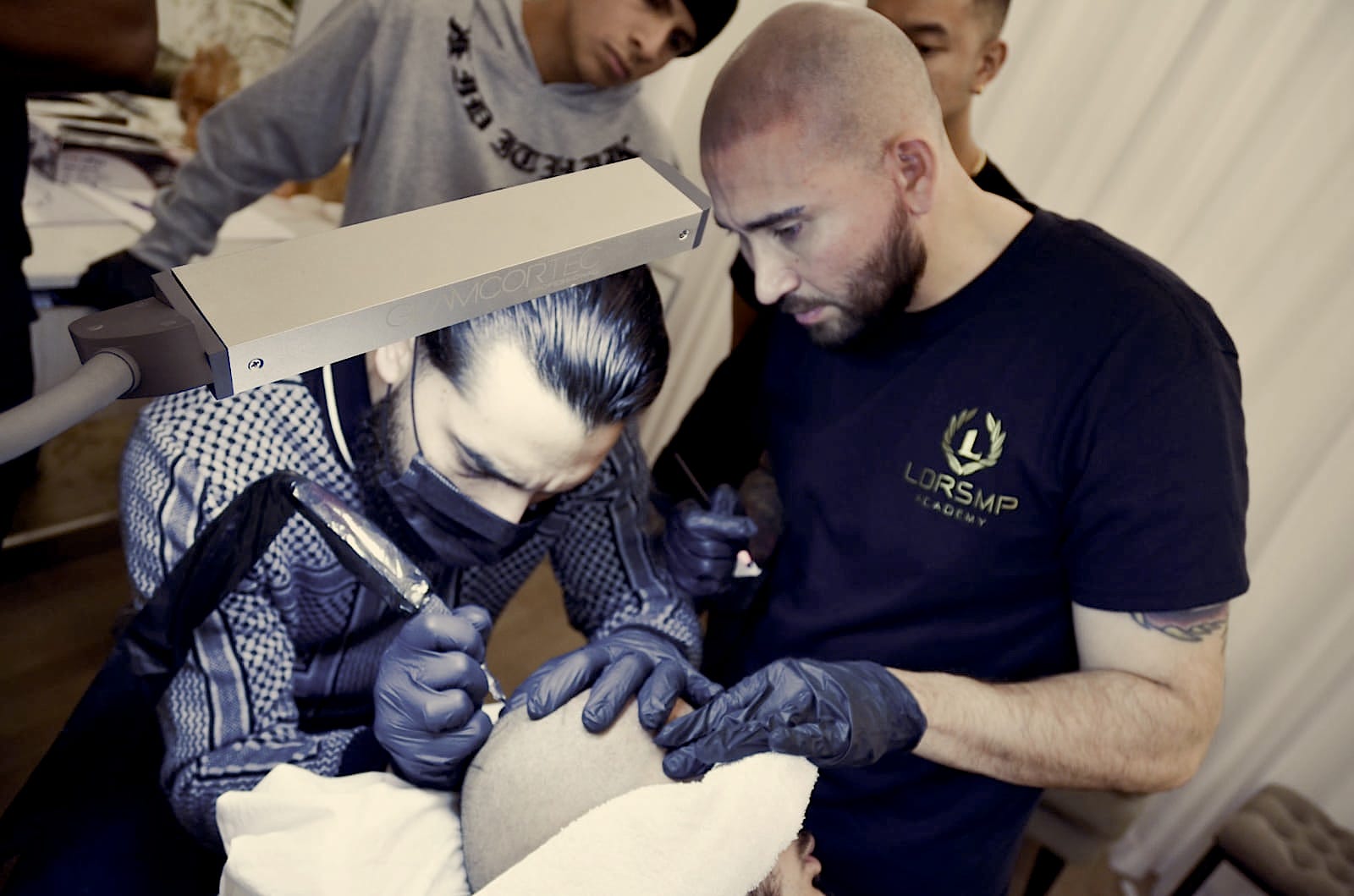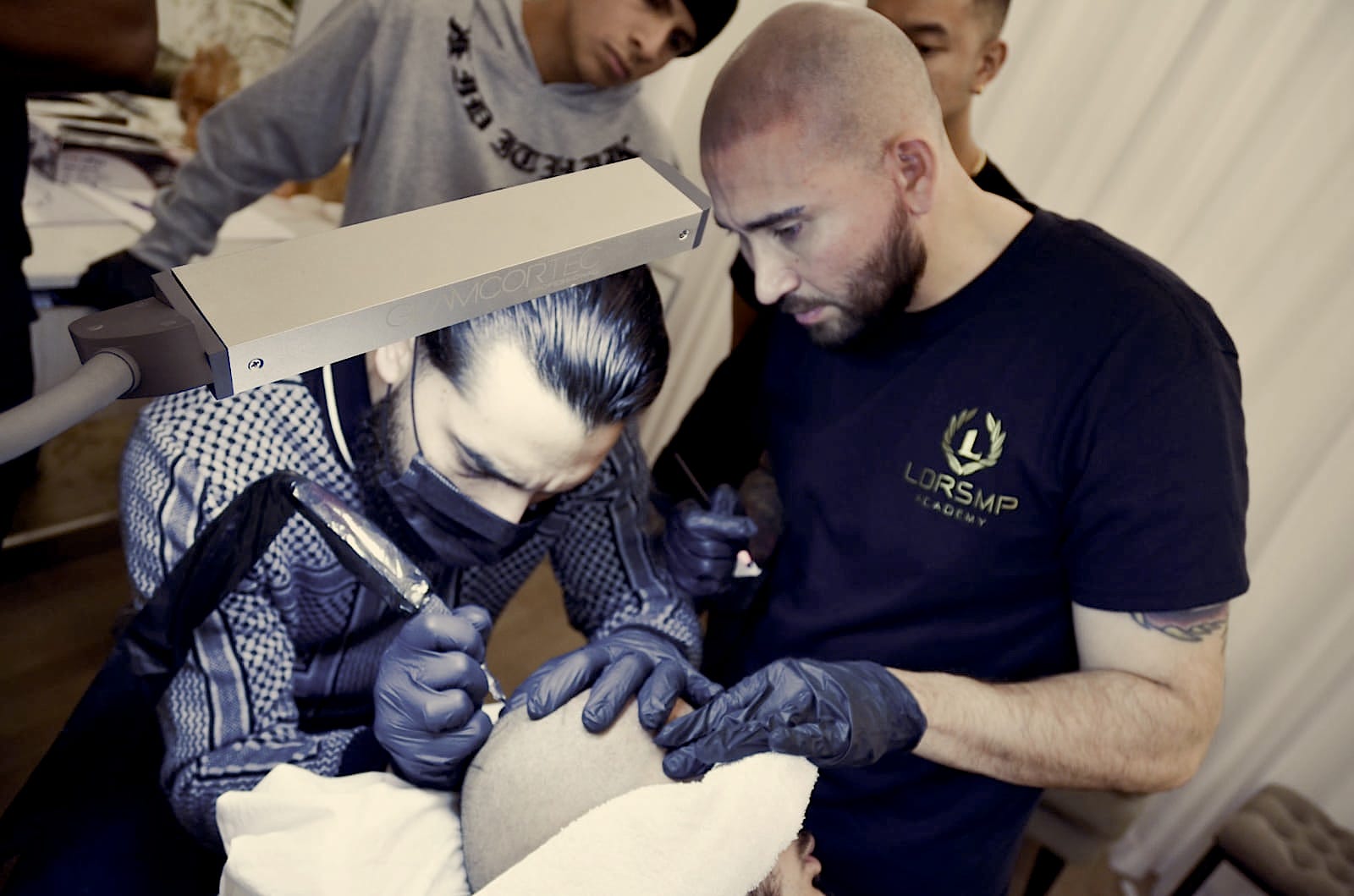 Q: Why are you working with Jeff Villenas?
Lindsey: We're both so passionate about what we're doing. His work is etremely good. The way he's able to create hairlines is so natural.
And as a professional, he has the right energy and motivation for what he's doing. He's really passionate and you can feel it.
Q: Will you be offering at Scalp Micropigmentation at Microblading LA?

Lindsey: Yes, when the time is right. We definitely have the space and time for it with the right artist.
If they're only doing eyebrows and they're not totally booked up yet, this can be a great add-on. Eyeliner and eyebrows can be very advanced. But with SMP it's really easy to learn. 
---
If you're ready to learn the art of Scalp Micropigmentation, join us on April 15, 2019 with Master technician Jeff Villenas!
You'll learn the exact techniques Jeff has mastered over thousands of hours of work. You'll work on a live model side-by-side with Jeff Villenas and his team so you can master the art of Scalp Micropigmentation.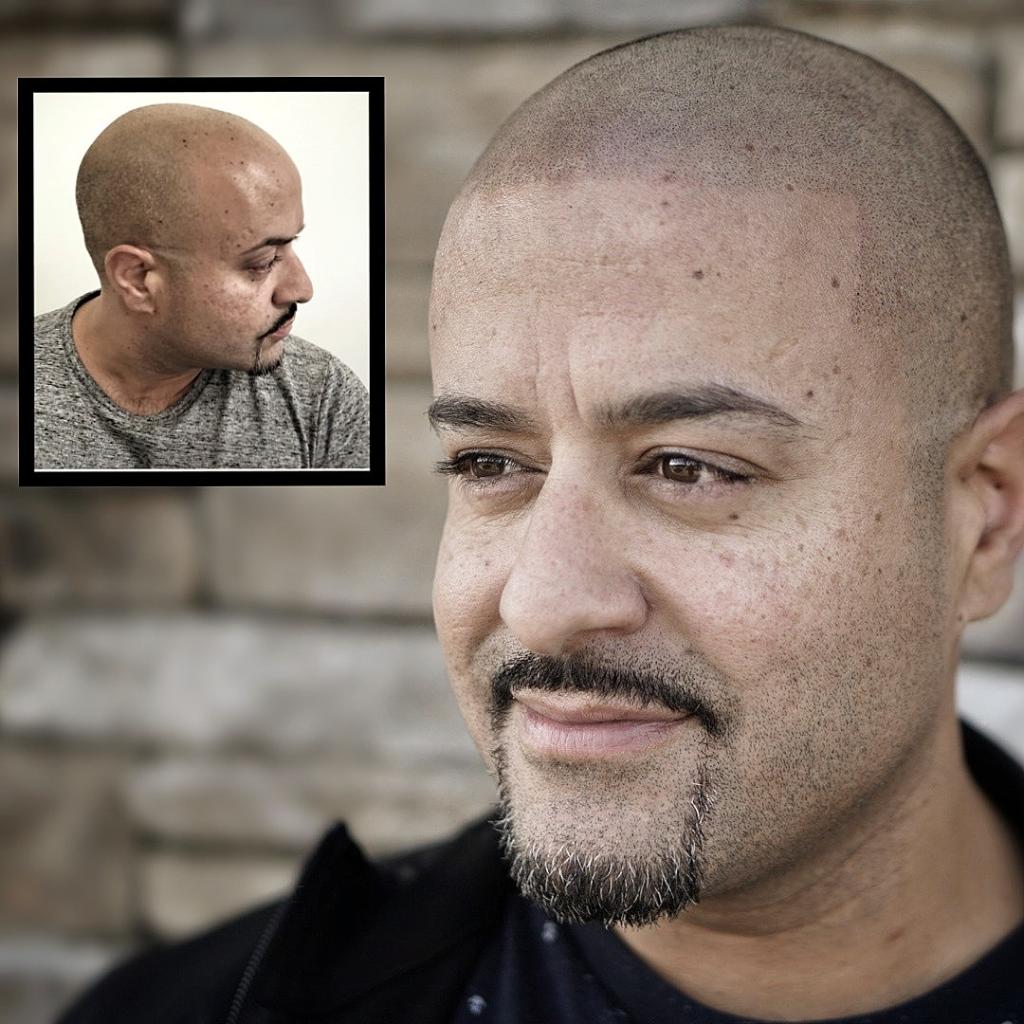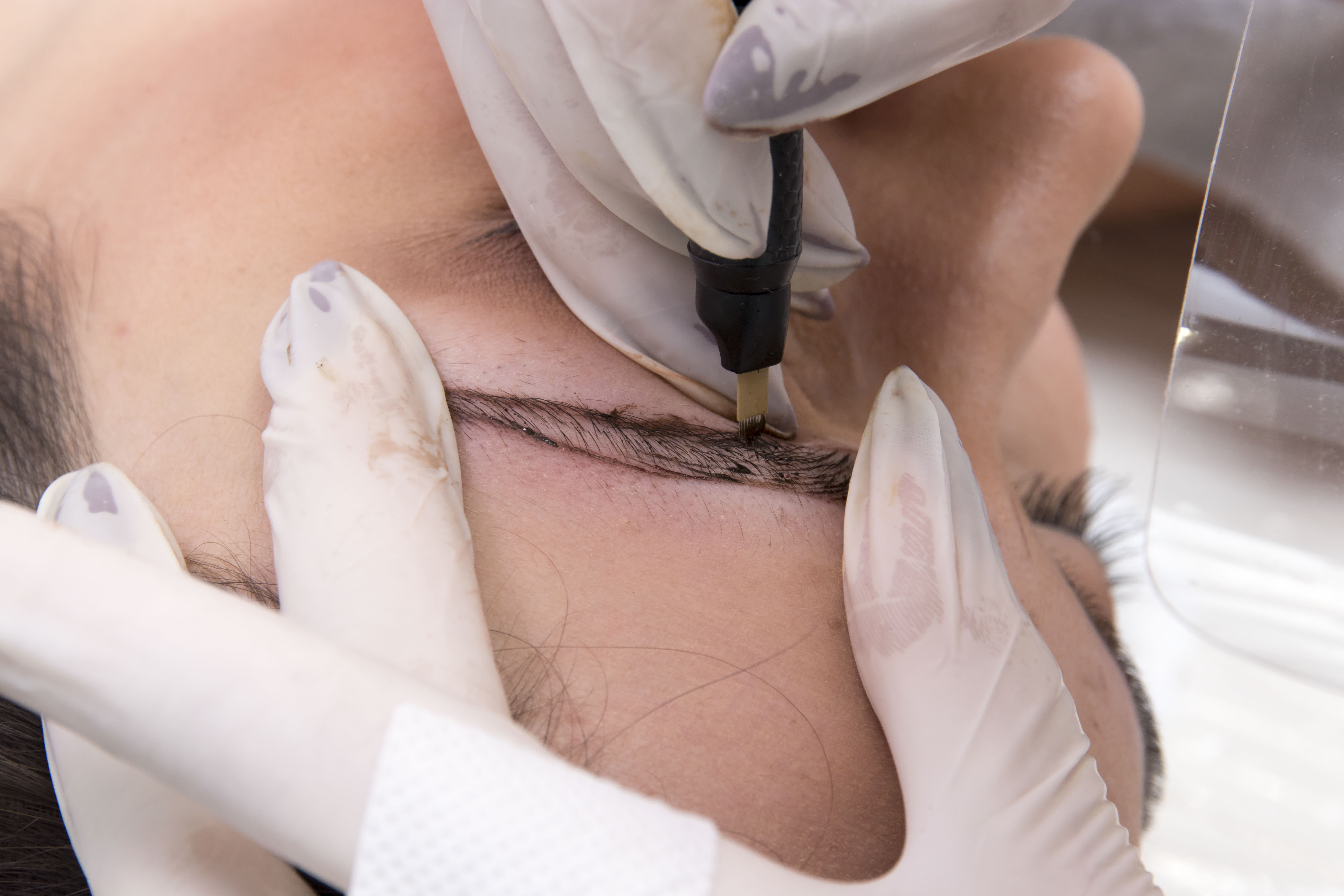 Microblading is on the rise! Georgia residents can now get microblading. Do you have a salon, tattoo shop, or med spa in Georgia?