Lip Blush Master Course
Create life-changing moments through lip transformations
MLA Certification
MLA Signature Technique
Your First Client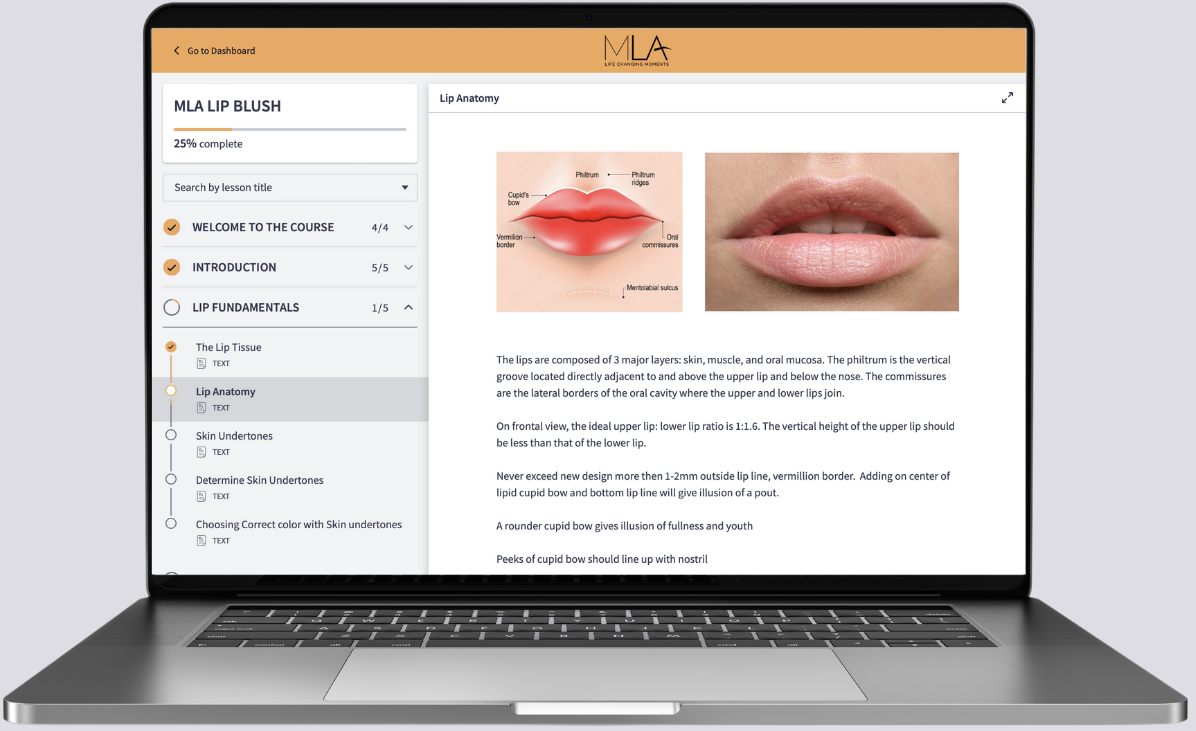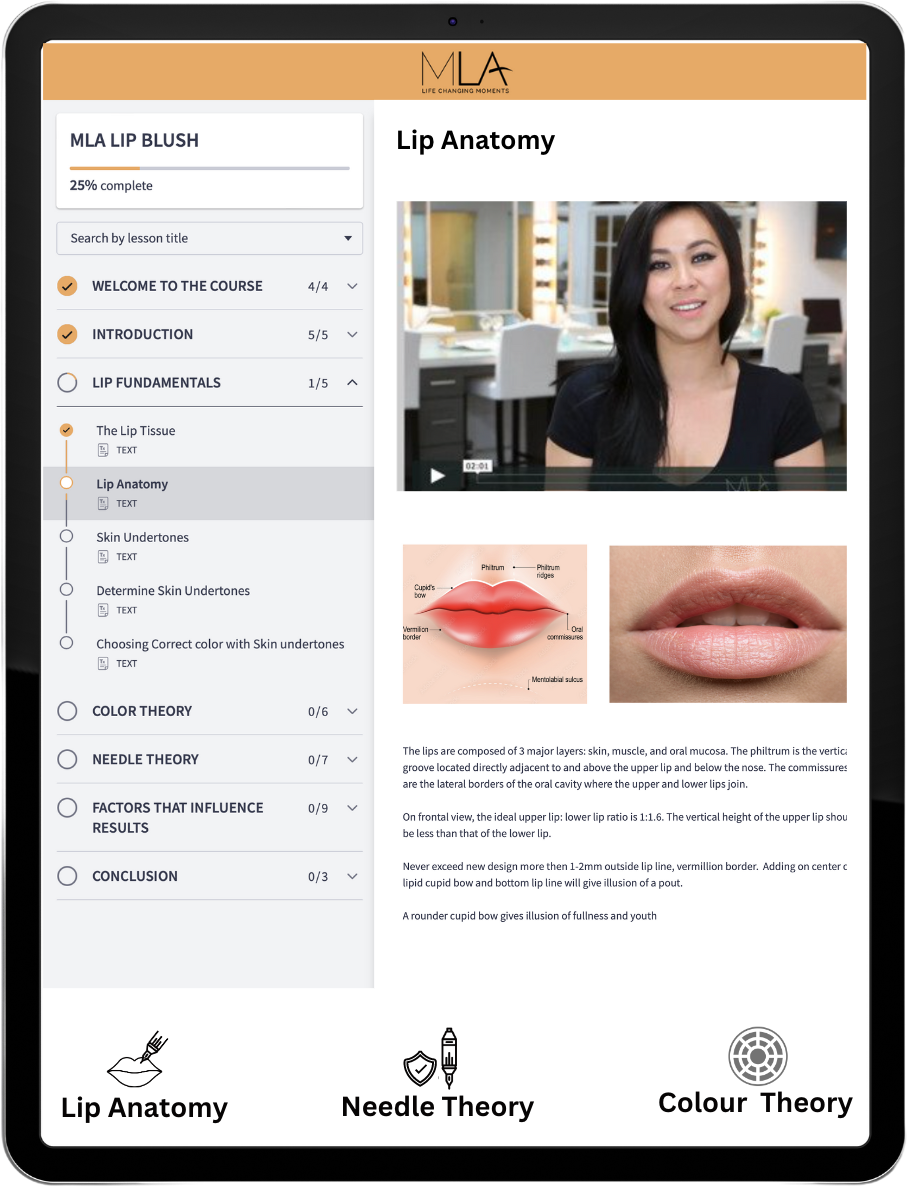 Lip Anatomy
Know your canvas inside and out
Needle Theory
Understand your tools and unleash creativity
Practical Color Theory
Challenging concept made simple
Introduction to Lip Blush
Day 1 (Online Only) — Embark on an exciting journey with our captivating Lip Blush Fundamentals course! Our immersive eLearning experience keeps you engaged while diving deep into essential topics like color theory, skin tone analysis, and needle expertise. As a self-paced, online course, you'll have the flexibility to learn at your own rhythm, ensuring you're fully prepared for the hands-on Lip Blush techniques awaiting you in class.
Lip Mapping
Make that Lip Pop
Simple Rules
Easy to Learn
Lasting Results
Confidence-boosting transformation
Lip Blush Mastery
Day 2 (in-person class 9am-5pm) — Begin your in-person learning journey with hands-on lip mapping techniques guided by our master instructors. Discover the secrets behind crafting the perfect lip pout, employing our signature Lip Blush technique and easy-to-follow rules. Throughout the day, you'll hone your hand movements to create a flawless pixel effect, enabling you to offer a range of intensity levels for personalized lip blush results tailored to each client's lifestyle and preferences.
Your First Client
Everything you learned into real-life practice
Full Procedure
Create a Masterpiece Under Supervision
Rewarding Results
Experience a Life-changing moment with your models
Model Day
Day 3 (in-person class 9am-5pm) — Experience an exceptional Model Day during our Lip Blush course, where hands-on practice meets real-world application. This crucial component of the training program is designed to help you put theory into practice and gain confidence in your newly acquired skills.


Throughout the Model Day, you'll perform full lip blush procedures, meticulously applying the techniques learned in the course, such as lip mapping, color selection, and pigment application. Your master instructor will be by your side, offering personalized feedback and guidance to ensure your work is both precise and beautiful
Intimate After Class support
Continue learning with classmates on an online private group
Private Online Community
Instantly become an MLA alumni in our community
Lifetime Expert Advise
Lifetime support and advice from our growing community
LIFETIME SUPPORT
As an MLA Alumni you will have access to lifetime support and continue growing your knowledge through our community of professionals. You will get updates and access to all our trade secrets files, clients forms, educational videos, new industry innovation, and much more.
LIP BLUSH MASTER COURSE
$2,499
This 3 day intensive course includes:
Single Class Price: $0

Single Class Price: $0

Single Class Price: $0
UPCOMING COURSE DATE
Lip Blush Master Course is a 3 day intensive course. Spend 1 day learning the fundamentals online. Then come in to our studio for hands-on training for an additional 2 days (9am-5pm each day), hands-on, in-person training. Click on your preferred date to get started: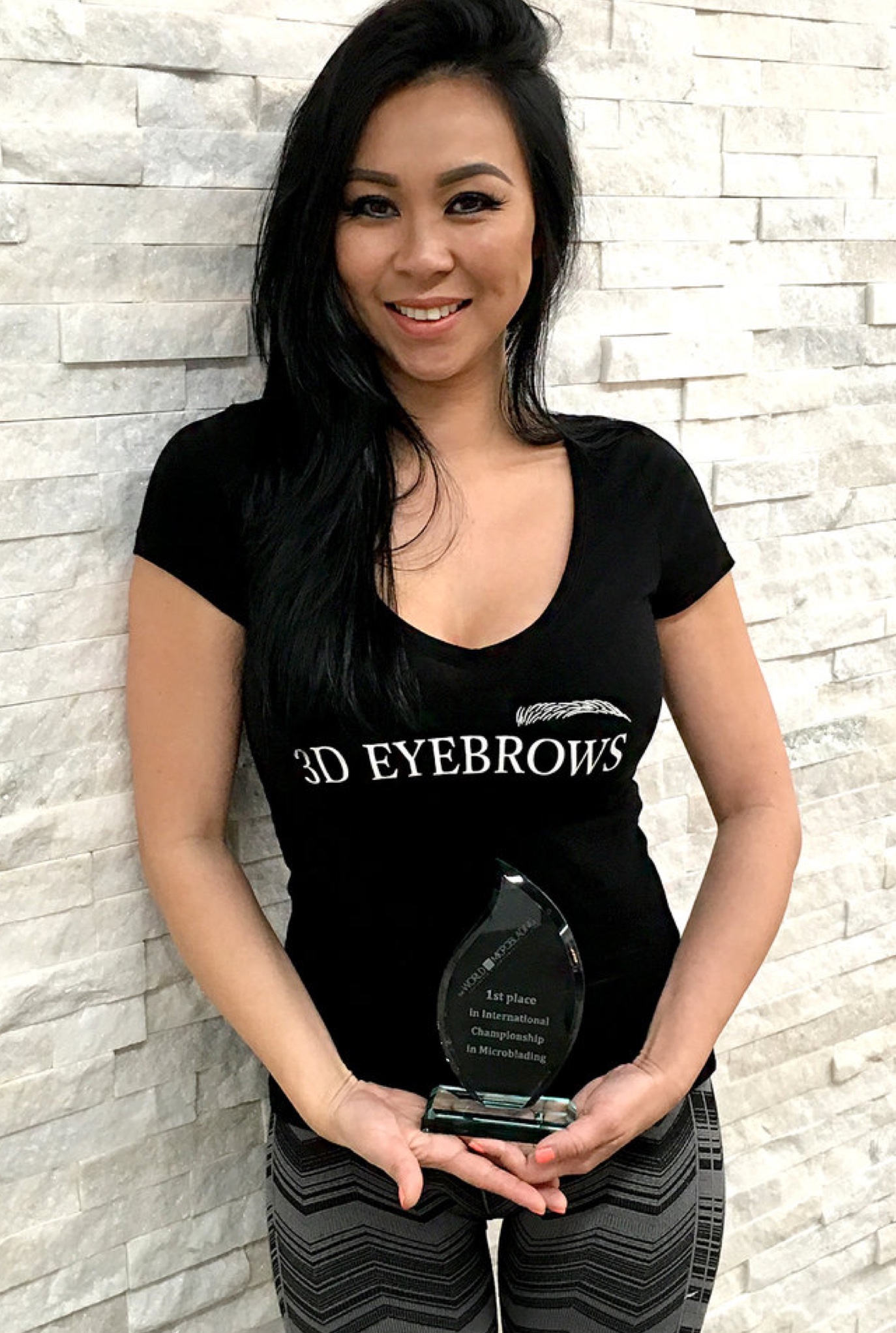 INTRODUCING LINDSEY TA
Learn from the best, be the best.
Lindsey Ta is the founder of Microblading LA and a world champion microblading artist. She has created 1000's eyebrows and taught 1000's of students.
Her work has been featured in: have questions?
Call or text our Training Specialists today. They are ready to answer any questions you have and guide you to the perfect program for your needs.
NEED FINANCING?
Apply Now
If you are approved, you will receive a 6 months interest-free financing. The tuition would be paid in full and you can start making your monthly payment.
ACADEMY FAQ
No, this Lip Blush Master Course is open to all levels. You DO NOT NEED any licenses, permits, or certificates of any kind to take this course.
Seats are limited to 12 students per class.
Courtyard Los Angeles Woodland Hills
21101 Ventura Blvd
Woodland Hills, CA 91364
(818) 999-2200
Best Western Woodland Hills Inn
21830 Ventura Blvd
Woodland Hills, CA 91364
(818) 340-1000
Warner Center Marriott Woodland Hills
21850 Oxnard Street
Woodland Hills, CA 91367
(818) 887-4800
Class start each day at 9am and ends at 5pm but be prepared to stay until 7pm as this is an intensive program and classes may end later.
You can start the online portion of this course, which takes approximately three days to finish, immediately after you complete the online registration.  
The Lip Blush Master Course is a total of 3 days:
The first day of online course starts after registration, and it is a self-paced program.
The next 2 days are in-person, hands-on training, with our master instructors at our training facilities in Los Angeles, California 
REAL Students STORIES
Rated 5/5 stars in over 500 reviews
Read why thousands of our students love our Brow Master Course at Microblading LA Academy