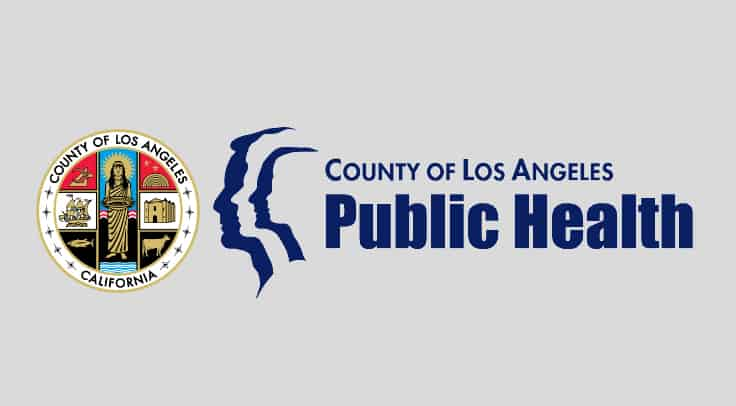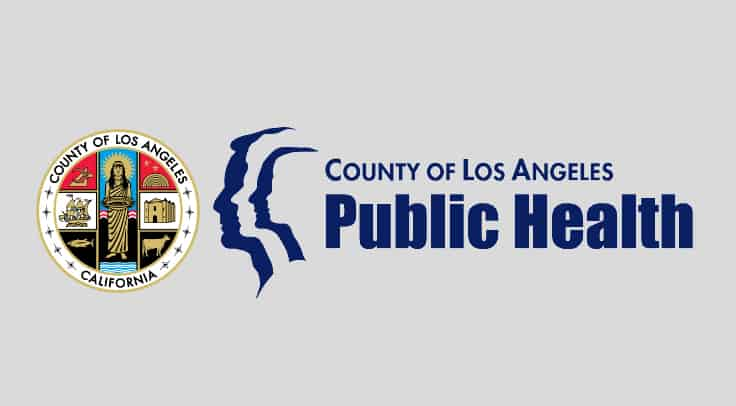 LA County Registration Instructions:
LA County requires all permanent makeup artists to register with the Environmental Health - Body Art Program. It is each artists responsibility to complete this registration and provide Microblading LA with your certificate number (also known as an SR#) before the first day of class in order to work with your live model.
Please understand: if you do not complete the instructions in this email, you will not be able to work on your live model during your class.

Registration is different depending on your circumstance:

1) If you currently practice permanent makeup in California, but not LA County:
Congrats, you are licensed to operate as a guest in LA for up to 5 consecutive days, which means no further registration is required.

Please REPLY to this email with proof of your CA permanent makeup registration. 

This will let us know that you are ready to begin!
2) If you are not currently registered as a permanent makeup artist:

You must first complete your Bloodborne Pathogen Training before registering with LA County. LA County only validates Bloodborne Pathogens Trainings done specifically for Los Angeles. Please complete the exact exam for Los Angeles County that is boxed in red (make sure to choose Los Angeles County Blood Borne Pathogens Class). This is an online course in how to protect the practitioner (you) and the client from the transmission of infectious diseases. Please follow all instructions, complete and pass the quiz (this process takes approximately three hours) once this is completed, you will receive your certificate via email. 

Please move on to step 2 once you have completed your Bloodborne Pathogen Training.
Step 1: Complete Your Bloodborne Pathogens Training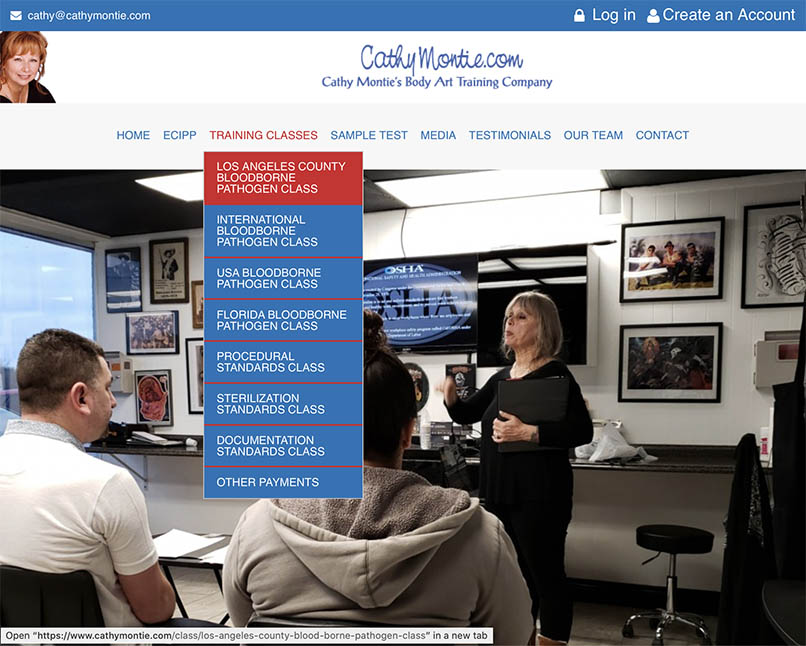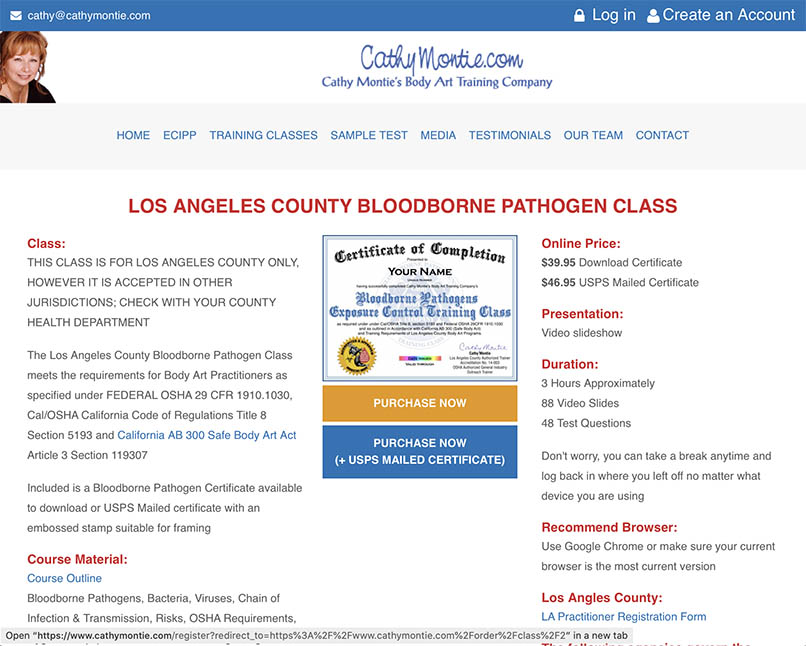 Step 2: Prepare The Following Items to be Sent to LA County
Certificate or Proof of Completion of Bloodbourne Pathogens Training 
A Check ($54 made out to Los Angeles

County

)
Copy of valid ID (Drivers license or State ID card)
2x2 inch passport style Photo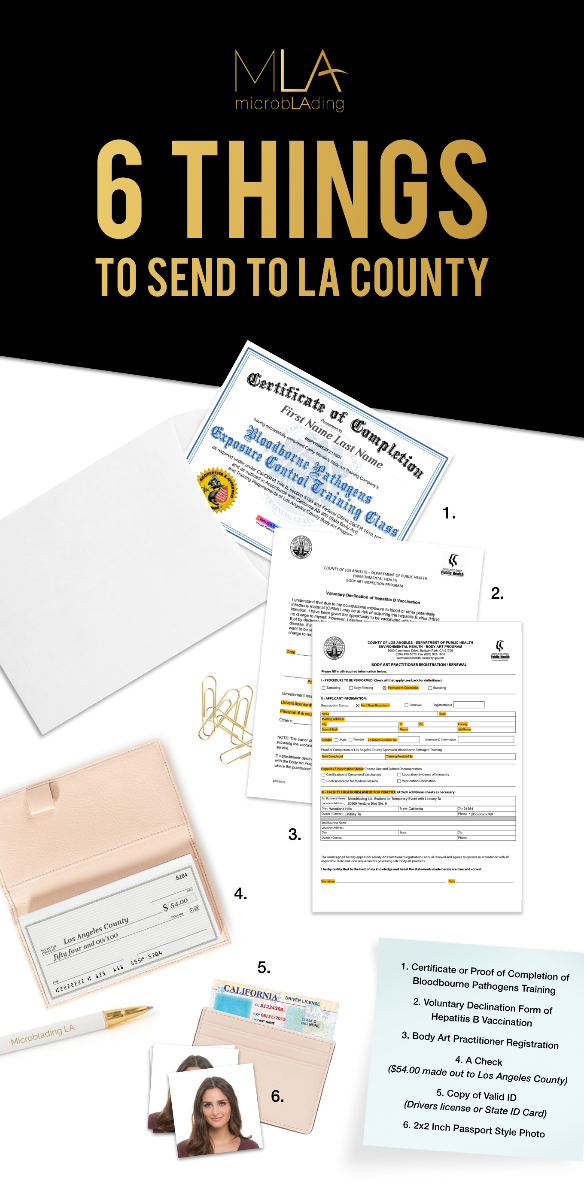 Step 3: Mail out Your Package!
LA County Environmental Health - Body Art Program is highly impacted and requires a minimum of 10 - 14 business days to process your package of registration and provide you with a certificate by mail. To ensure you will have your certificate in a timely manner please send out your package through priority mail, a minimum of 1 week before your class start date.
Mail this package to the following address, exactly as written:
Environmental Health - Body Art Program
Attention: Intensive PMU Training at MLA
5050 Commerce Drive
Baldwin Park, CA 91706


Please REPLY to this email once you have completed registration. 

Please do so as soon as possible! This is very important or else you will not be able to complete your Microblading LA course.

Thank you in advance for taking the time to register with LA County. Completing this registration will allow you to practice during the class and for up to one year in LA County!

We know this can be confusing, so please contact us right away if you have any questions, so we can get you registered as soon as possible.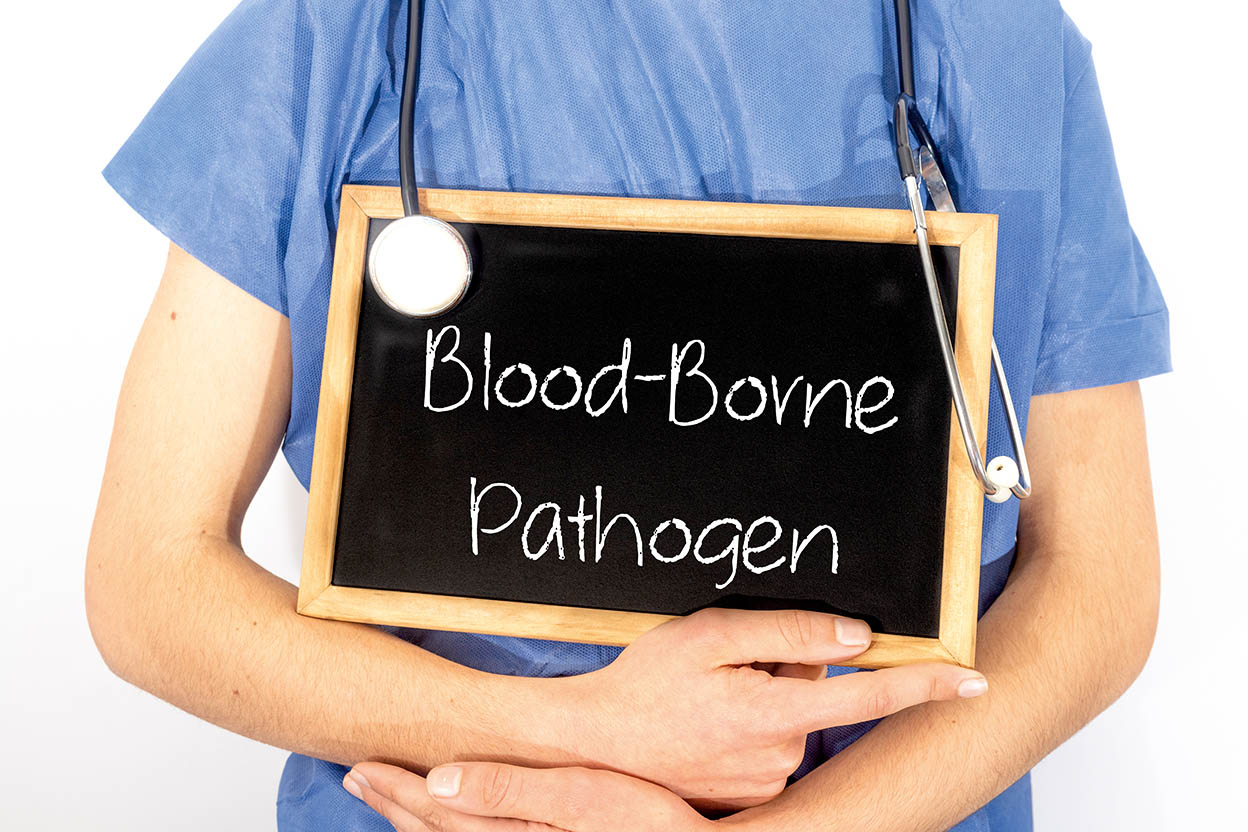 To prepare for your class, you must complete the Bloodborne Pathogens training. You can find the training here: http://cathymontie.com/

This training will take about 2 to 3 hours to complete and will require a payment of $39.95, which you can pay on their website.

Please follow the instructions below to make sure you take the correct test!